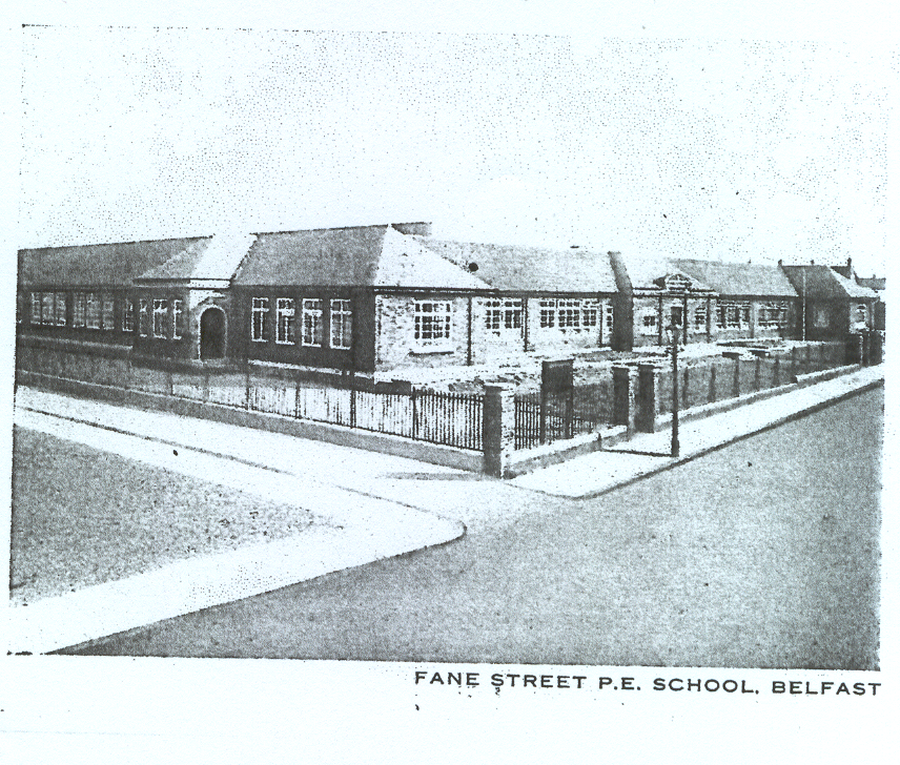 History
The school at Fane Street has served the South Belfast area for over 80 years since opening in April 1932. Many people have had an association with the school which was formed following the amalgamation of Ulsterville and St Nicholas' Public Elementary schools under the leadership of Dr J.T. Lamont (Principal).
The school has survived many testing times over the years but perhaps the most difficult period for the school came during World War 2. Lessons were cancelled and the school was closed for a period of time in order to be used as a rest centre for many people who had been made homeless as a result of the two very heavy air raids on Belfast on 16th April and 4th May 1941. The school was used to house these people who were cared for and entertained until they could find alternative accommodation. Air raid shelters were also positioned in the school gardens during this dark period.
Fane Street was used as an outreach centre for Rupert Stanley College of Further Education and by organisations such as the Boys' Brigade, Belfast School of Music and the Ashley Youth Club.
Fane Street has been a Public Elementary School, a secondary school and, since 1976, has been a primary school. Many people have very fond memories of their time at the school and some former pupils have submitted their memories from the early days.
Memories from past pupils...
Fane Street Public Elementary School
"My mother brought me there in September 1930 and left me with Miss Bracegirdle who was the teacher who took the "Junior Infants", as we 5 year olds were known. Fane Street School was among the first of a number of new school buildings erected to accommodate the modern advanced methods of educational teaching and the provision of light and fresh air in buildings for the accommodation of children … BUT the open corridors allowed the wind and rain to play havoc and ultimately, I assume, that is why the corridors got closed in…
I attended the school for a further nine years, when at the age of fourteen, the leaving age, I said good-bye to Dr Lamont, the first principal of the school, who ruled it from "on high"; from the strictly private domain of the office to which one was sent to receive punishment in the form of a slaps applied with accuracy to the right hand by a sizeable cane…
One of Fane Street's senior teachers, Cecil Browne formed the Past Pupils Association, known as the PPA and a form of this still exists today in 2009 – called the "Fanetonions". It meets for lunch in the Ulster Reform Club each month, the membership decreasing through natural causes, is down to about six old past pupils…"
Mr Cecil F D Dunbar
When Fane Street opened in 1929 I was transferred from Ulsterville Public Elementary School in Edinburgh Street. I remained at Fane Street until 1935 when I went on to the Belfast Technical College…
"The staff in Fane Street when I first went, as I remember them were Dr Lamont (LLD) a truly Christian person, Mr Daly (affectionally known as Daddy) - a strict disciplinarian who also ran the soccer team; and if you were Church of Ireland your chances of selection were enhanced. Miss Henry (who was the sister of Mr Henry who was the manager of the Ulster Bank at the top of Donnybrook Street), Miss Bracegirdle (who was always immaculately dressed), Miss Brownlee, Mr W McClune and Mr Moorehead (called Barney) because of a famous footballer of that period…"
Mr Leslie Jefferson
"At the end of August 1939 I was transferred from UlstervillePublicElementary School to Fane Street for the rest of my primary education. I liked my new surroundings very much; the school was modern, spacious, classrooms were all on the same level with large windows letting in lots of light…
The next year, when I was in Fifth Standard 1940-1941, times were changing and the horrors of the Second World War were becoming evident. A lovely little girl named Vera, who had magnificent long plaits in her fair hair, joined our class. She and her parents had fled from Czechoslovakia at the time of Hitler's invasion of their country. Fortunately, Vera was bilingual and didn't seem to have too much difficulty in adjusting to life in Fane Street. Teachers and classmates alike made her feel very welcome.
I remember that after a big blitz on Belfast, the school was taken over as a rest centre for those made homeless as a result of the bombing. I saw streams of people, all possessions gone, walking dejectedly down the Avenue where I lived, on their way to Fane Street School. They were fed, clothed and housed there temporarily until suitable accommodation could be found for them. Normal school life there resumed and our brief holiday ended. By this time the numbers on roll had dropped because some children had been evacuated to the country, if their parents so wished.
Moving on to Sixth Standard, I was taught by a male teacher who had a fearsome reputation, but I survived. I think that he was harder on the boys than the girls. The proverbial cane, when not in use, hung over the edge of the cupboard but thankfully I never felt its weight…
Of course there was a lighter side to school life. Two very pleasant ladies, Miss Henry and Miss Morris, were responsible for teaching cookery and needlework. There was a large cookery room where the girls were taught the basic skills of food preparation – no ready-prepared veg and certainly no ready-made meals in those days. I think that cookery lessons were put on hold for a while when food rationing was introduced and the many ways in which dried egg and spam could be used had been exhausted…
In June 1942 I bade farewell to Fane Street and went off to 'Methody' for the next five years of my education."
Hazel Saunders
"I have very fond memories of Fane Street Secondary School when I first started in 1954. I can remember most of the teachers, but I especially recall Ms Vogan, music teacher, who was blind. I had the privilege of escorting her to each class for their music lesson. Ms Vogan lived on the main Lisburn Road near the King's Hall; and she trusted me to guide her home. We would have walked up Ashley Avenue to the bus stop where we would board the bus until we reached her stop which was directly facing her house. It was a great responsibility crossing the busy road but it was a joy to do it and I was so pleased that she trusted me to do this every day."
Mrs Frances Watt (nee Gibson)
Fane Street Primary School Staff
1976-1977
Headmaster- Mr H. D. Starret
Vice-Principal – Mr W. P. C. Rankin
Room 1 (P1) Miss R Curry
Room 2 (P2) Miss C Lavery
Room 3 (P3a) Miss E. D. Dunn
Room 4 (P3b) Miss M Logan
Room 6 (P4b) Miss H Ross
Room 7 (P4a) Mrs E Moffitt
Room 8 (Rem) Mrs S Cooke
Room 9 (P4c) Miss E Hamilton
Room 10 (P7s) Mr W.P.C. Rankin
Room 11 (P5s) Miss H Dale
Room 12 (P5m) Mrs L Lyster
Room 13 (P5a) Mr D.R. McClean
Room 14 (P6m) Mrs J Downes
Room 15 (P6s) Miss E McGiffin
Room 16 (Rem) Mrs C Hutchinson
Room 17 (P7a) Mr D.L. Parkinson
Room 18 (P6a) Mrs S.N. Johnston
Room 19 (P7m) Miss S Jackson
Reflections from Rev W I Hull
My association with Fane Street covers the last twenty five years when I have been minister of the nearby Ulsterville Church. When Fane Street was founded eighty years ago, there was already the Ulsterville National School, run by the Church. This became a main feeder school for Fane Street until its closure in 1982. Over the years I have watched Fane Street suffer the same problems that have characterised the area - long term numerical decline to the sort of numbers that pertain today. But I have also watched Fane Street develop and mature to a remarkable degree.
I am going to spell out my admiration by using the letters of FANE.
F for Fantastic. Maybe I'm prejudiced but I have come to regard Fane Street as a fantastic school. Visit the school and notice how orderly the kids are. They even look happy - so too the teachers! Something good must be going on.
A for Acceptance. Fane Street Primary School is commitment to accepting pupils from whatever their background, race, colour, creed or difficulty. They find a welcoming home here and they are taught to accept and respect diversity. We have a rich variety of countries of origin and first languages and the presence of such pupils ensures that Fane Street is able to offer a broad curriculum.
N for Nurture. It is great to see how pupils eventually leave Fane Street. During their years they are nurtured in self-esteem, life skills, interpersonal relationships as well as in normal educational matters. Our pupils can go on to the next stage and take their place there. Right from Nursery through to Year Seven the school exercises an excellent caring policy that ensures that even the most challenging of pupils is seen to benefit.
E for Enthusiasm. The X Factor that makes a difference in any school is its teaching staff. From the Principal right down to the most recent addition to the staff, Fane Street boasts its quality teachers. Led by the Principal, enthusiasm runs right through the staff and accounts for why parents and friends speak so highly of the school, and why so many seek to have their children educated in Fane Street.
It has been my privilege to be Chair of the Board of Governors for about 7 years now. But I have retired from the Chair and am retiring as minister as well. My successor as Chair, Mr Crossan, has been appointed. As I commend the school on reaching its eightieth year, I urge you to support the Chair and Board of Governors, the Principal and the teaching and the other staff, as they seek excellence in providing a holistic education experience for the children of this area.
Ivan Hull,
Former Chair,
Board of Governors
There have been several famous former pupils including:
Professor Ryan (QUB), Mr Brennan (Principal of Armagh Royal), Mr T Garrett (Principal of RBAI), Mr G Priestly (Chairman of the British institute of Marketing), Mr G Ginn (Principal of Rupert Stanley College), Mr G Reid (Playwright), Mr W Mulryne (Principal of Methodist College, Belfast), Mr T Priestly (International Footballer), Mr T Anderson (International Footballer), Ruby Murray (International Singer), Mr L McKeown (Linfield Footballer), Professor Gibson (QUB), Mr R.M. Bowman (Director – Northern Bank), The Former Bishop of Cashel, Rev Canon Dr F.A. Baillie and Professor D Ryan (QUB)
Ulsterville School
Below we have a 1976 Ulsterville School newsletter. Many thanks to Karen Gault for providing this special piece of Fane Street history.
Snapshots of Belfast 1925 - 1929
Many thanks to Colette Parish who has drawn our attention to 'Snapshots of Belfast 1925 - 1929.' She spotted a picture of Fane Street Primary School Choir in 1929. You can find the picture, along with many other old photos of Belfast at https://issuu.com/glenravel/docs/snapshots2.