Our School Day
Breakfast Club
Our Breakfast Club operates each morning from 8.15am until 8.55am. Please be at the front door between 8.15 - 8.30am to gain entrance. A supervisor will be there at 8.15am and entrance can be gained by pushing the buzzer. A healthy breakfast is served for 60p per day. Children will be supervised and sent to class in time to begin their morning lessons.
See below for a menu.
.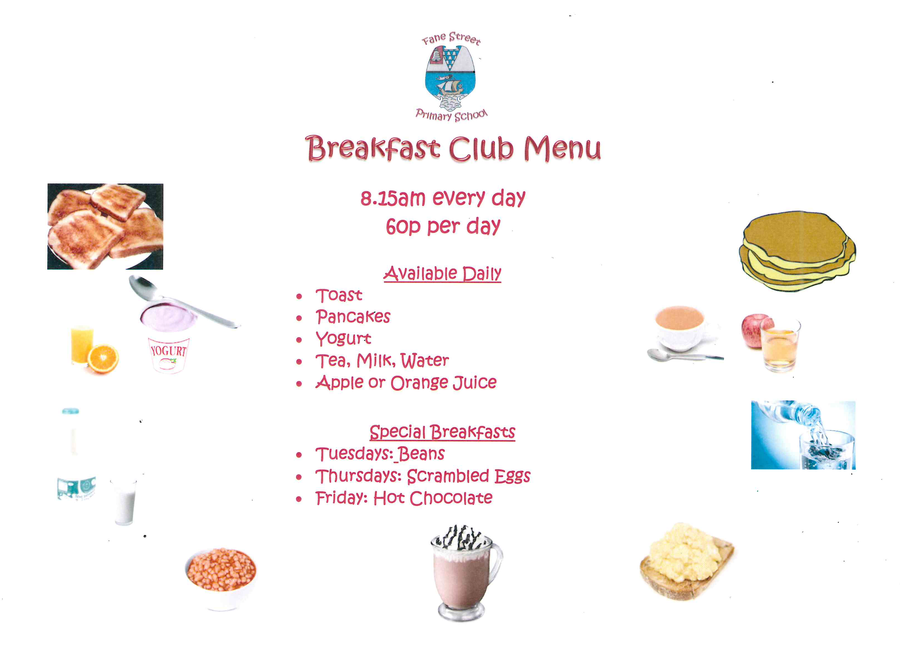 School times
School begins at 8.45am.
Snack time is 10.25am and children are expected to bring a healthy break Monday - Thursday and a treat for Friday.
Lunch time is 12 - 12.40pm for P1-3 and 12.15 - 12.55pm for P4 -7
Nursery children have different finishing times from September which the teacher will let you know at the start of the term.
P1 and P2 finish at 1.55pm
P3 - P7 finish at 2.45pm
We understand that occasionally parents may run late for pick ups but please let us know by phone if this happens.
New child have different "settling in" times as we aim to introduce them to our routines and school life in a stress free way. More information can be found in our School Policy section, click on the link below for the Nursery and Primary Admissions Policies.
After-school clubs finish at 2.45pm for P1 - 3 and 3.45pm for P4 - 7. We have a wide range of clubs available, please have a look at what is available on the Clubs page. These are changed at the end of each term and are mostly free of charge, except our Football Club with our #Fanetastic past pupil Jordan. Parents will be kept informed of dates these begin and end, or if any unforeseen circumstances have caused them to be cancelled.
We will endeavour to let you know about any early closing days as soon as we can in order to accommodate child-care arrangements. These usually are for parent interviews, teacher training or end of term days. Please check on our social media accounts or our website calendar.